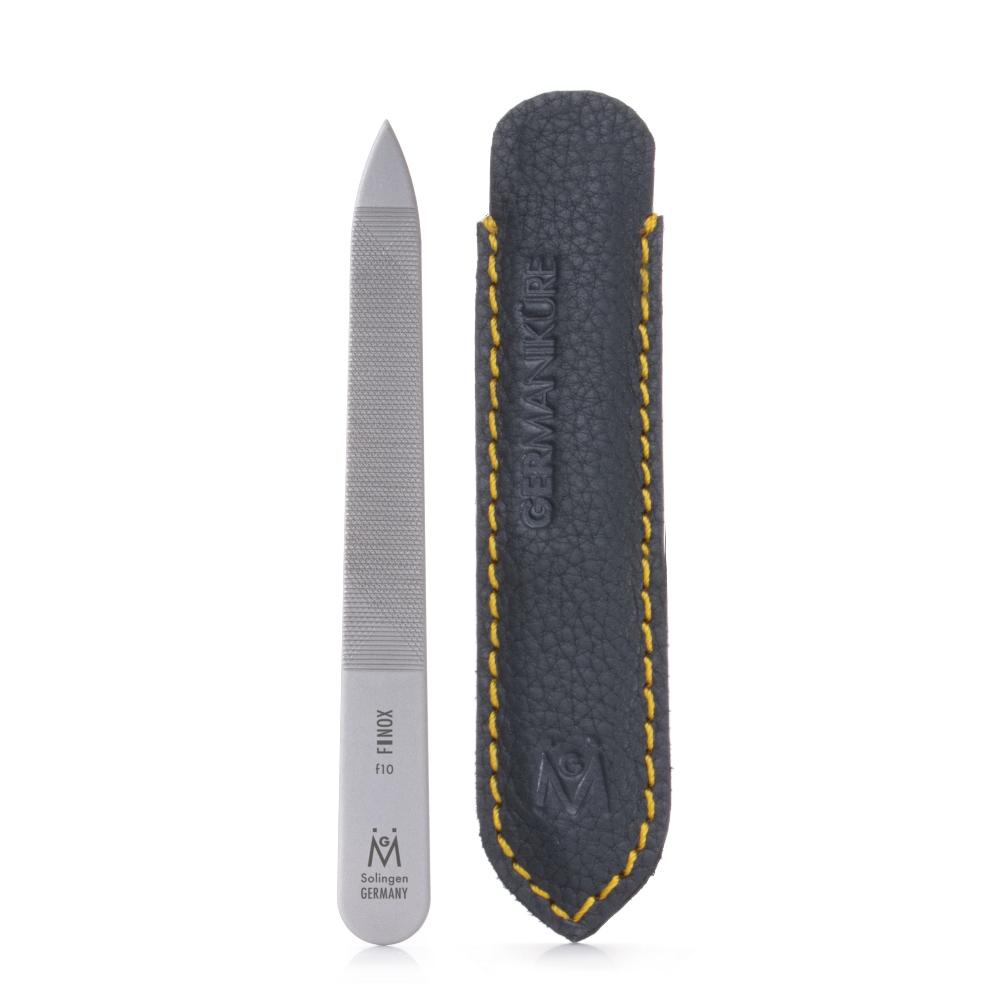 h

Product description
Description
This GERmanikure 9cm (3.54 inch) triple cut nail file is perfectly textured in the sweet spot between too coarse and too fine. Crafted in Solingen Germany on traditional grooving machines these are not are not poorly textured strips of stamped metal. Learn what luxury feels like and invest in an heirloom file.

Traditional Craftsmanship
The GERmanikure triple cut files are crafted on the same machines that created your grandparents' trusty files. There are very few factories left that still use these machines and even fewer artisans remain that have the skills to adjust these machines. GERmanikure triple cut files are neatly grooved without burrs or deep valleys and this kind of quality consistency is impossible to achieve with modern machinery. You can easily see this attention to detail under magnification. When there are no burrs to gouge and no valleys to abrade the nail surface is not sanded and ground it is smoothed and polished.

Multi-purpose
The double sided textured grooves have a strong enough bite for use on artificial nails yet the file spine has enough flex so that it can prevent damage to natural nails. The pointed tip is well suited for removing debris that accumulates from beneath the nail and the curved base can be used to carefully push back and help remove cuticle overgrowth from the surface of the nail.

High Carbon Stainless Steel
Old world design and modern high carbon stainless steel combine in GERmanikure's FINOX line of tools to make them rust proof and almost indestructible. The formulation for High Carbon Stainless Steel is precisely and carefully controlled to contain just enough iron cobalt chromium and other minerals so that it is just as strong as traditional high carbon steel but also is just as care free and rust resistant as common stainless steel.

Leather Case
Even though this triple cut file is crafted of the finest modern materials and designed to last for decades it comes complete with a custom fitted leather sleeve to protect it even further. Leather is naturally cushioning and dehumidifying. The case will prevent damage to the file when it is not in use as well as help wick away any condensation that may accumulate on the cool steel.

GERmanikure believes in long tool life healthful living and good environmental stewardship. Each tool is handcrafted in Solingen Germany by trained adult artisans in a factory that recycles leftover production waste and filters its wastewater. This item is guaranteed free from unethical workmanship such as forced labor or child labor.
Specifications
Warranty: Lifetime Warranty*
Material: High Carbon Stainless
Size: 3.54 inch
Handle Size: 1.18 inch
Thickness: 1.00 mm